Cards are used to complete certain tasks in the game. There are three types of cards: Shopper Cards, Quick Delivery Cards and Product Cards. Cards are acquired by completing general tasks such as serving shipments. You also receive them when you level up , complete collections or finish quests. They can also be bought for cash or you can ask your friends to send you a surprise cards.
Shopper Card
Edit
A Shopper Card is given to a customer to increase his/her budget and launch campaigns. 
50 can be bought for

5.
Quick Delivery Card
Edit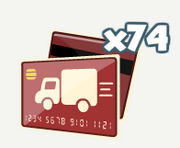 Quick Delivery Cards are used to
deliver ordered shipments
 instantly. The larger the shipment, the more cards are needed to deliver it.

3 are earned every time you level up. 

10 can be bought for

5.
Product Card
Edit
Product Cards have a variety of uses:
3 are earned every time you level up. 
20 can be bought for

5.
Ad blocker interference detected!
Wikia is a free-to-use site that makes money from advertising. We have a modified experience for viewers using ad blockers

Wikia is not accessible if you've made further modifications. Remove the custom ad blocker rule(s) and the page will load as expected.